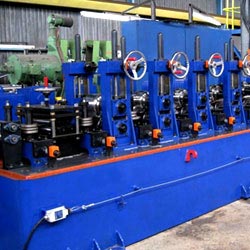 High Frequency Welding Stainless Steel Tubing for Pipe and Tube Machine
---
26 Apr, 2011
Seamless tubes are typically more light weight, and have thinner walls. They are used for bicycles and transporting liquids. Seamed tubes are heavier and more rigid. The have a better consistency and are typically straighter. They are used for things such as gas transportation, electrical conduit and plumbing. Typically, they are used in instances when the pipe is not put under a high degree of stress.
E-Catalog 2021
Please click below link to download files

Download
Sunfone Tech High Frequency Welding Stainless Steel Tubing for Pipe and Tube Machine Introduction
Sunfone Technology Co., Ltd. is Taiwan supplier and manufacturer in Tube Mill, Piping making Machine and Tube Mill Accessory Industry Market.. Sunfone Tech has been offering our customers high quality Tube Mill, High Frequency Tube Mills, Stainless Steel Tube Mills, Automatic Steel Coil Slitting Line, CNC Cut-to-Length Machine, Round/Square Tube Polish Machine, End Facing Machine, Straightening Machine, Saw Blade Grinding Machine, Eddy Current Tester and Hydrostatic Tester since 2000. With both advanced technology and 20 years experience, Sunfone Tech always make sure to meet each customer's demand.