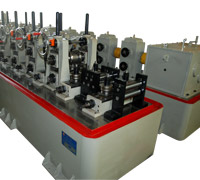 Tube Mill 304 High Frequency Welding, Burr Free Cutting. Stainless Steel Tubing
---
25 Apr, 2011
There are various types of stainless steel, and even with slightly different elements, the welding method or tube mill setting can be changed. Sunfone is a tube mill expert who's capable of designing and manufacturing High Frequency Tube Mills using 200, 300, and 400 series stainless steel, particularly in grade 304/304L. The stainless steel tubes formed by Sunfone's tube mills are purely welded to meet the most demanding applications. The tubes meet the highest and burr-free standards, and are clean.
E-Catalog 2021
Please click below link to download files

Download
Sunfone Tech Tube Mill 304 High Frequency Welding, Burr Free Cutting. Stainless Steel Tubing Introduction
Sunfone Technology Co., Ltd. is Taiwan supplier and manufacturer in Tube Mill, Piping making Machine and Tube Mill Accessory Industry Market.. Sunfone Tech has been offering our customers high quality Tube Mill, High Frequency Tube Mills, Stainless Steel Tube Mills, Automatic Steel Coil Slitting Line, CNC Cut-to-Length Machine, Round/Square Tube Polish Machine, End Facing Machine, Straightening Machine, Saw Blade Grinding Machine, Eddy Current Tester and Hydrostatic Tester since 2000. With both advanced technology and 20 years experience, Sunfone Tech always make sure to meet each customer's demand.