HIGH FREQUENCY STAINLESS STEEL TUBE/PIPE MILL
SF-40 / SF-50 / SF-60 / SF-70 / SF-80 / SF-90 / SF-100 / SF-120 / SF-150 / SF-180.
HF Tube Mill for Stainless Steel Tube
High Frequency Stainless Steel Tube/Pipe Mill
Sunfone's stainless steel high frequency tube/pipe mill has a special roll adjustment device to control the welding seam and its welding V angel is bigger than 8 degrees. Through the whole stainless steel tubing process, non-water operation and inserted gas flow are implemented to protect the whole welding zone in order to generate high quality tubes. In addition, edge trimming and OD beat scarfying tools use high quality material to remove weld beads from stainless steel tubing.
Cold saw cutting machine is used to cut the stainless steel tubes into preferred length. In general, ideal cold saw cutting machines should have firm cutting blades, and strong motors that would last longer life. Sunfone's cold saw cutting machines are constructed by 3 NC servo motors, and the saws' unique and long-lasting material assures furr-free performances.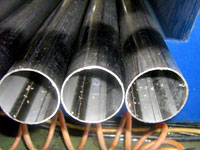 Sunfone's high frequency is designed to handle 200, 300 and 400 series stainless steel tubes. With the high speed processing achievement, production efficiency is satisfied.
E-Catalog 2021
Please click below link to download files

Download
Have Any Question ?
Call Us :
+886-4-8313011
Thank You.
More Details
HIGH FREQUENCY STAINLESS STEEL TUBE/PIPE MILL | Tube Mill Manufacturing And Supply - Sunfone Tech
Sunfone Technology Co., Ltd., since 2000, is an ISO certified HIGH FREQUENCY STAINLESS STEEL TUBE/PIPE MILL | tube mill manufacturer based in Taiwan.
Sunfone Tech specializes in custom design high frequency tube mills and automatic still coil slitting line with engineered tubing solutions for the world famous companies.
High-quality and competitive price, Sunfone Technology's pipe | tube mill including PLC control system, quick mold changing, SUMITOMO motor, uncoiler, and bearings are mounted on a solid base plate which is cast-in during mill erection, and electronic control panel takes charge of all the precise movements.
Sunfone Tech has been offering customers high-quality stainless steel tube mill | pipe mill, both with advanced technology and 20 years of experience, Sunfone Tech ensures each customer's demands are met.